<! - Tableau des textes -> <!- Titre de la page -> <!- DAC ->
Digital clock
<!- Digital decoder ->
Juniclock Five - January 2012
<!- Texte de la page ->

Juniclock Five The analog sound for your digital system...

The Juniclock five is a digital clock dedicated to master DAC and other audio equipment from 44.1KHz to 192KHz. It integrates S/PDIF and clock output to synchronize digital source like slaved sound card or USB to S/PDIF interfaces. In an optimal configuration there is only one central clock source producing a reference clock to which all audio data processing is synchronized. It solves all problems of jitter or synchronization between equipments.

The Juniclock five is the ideal companion for the following DAC:

<!- en tête de colonne ->
Product
Description
Buy
Juniclock Five - mounted

- click on the picture to show kit's details
- Assembled and tested
- Sold without transformers



360 €
+ 18€ for shipping cost.
Recommended transformer

- 1x9V 10VA

.
Technical documentation
Short technical description
The Juniclock five uses two crystals to generate normalized audio frequencies. Clock output is available for 5V and 3V3 and accepts 75 ohm load. The S/PDIF output is used by sound card for synchronization, it contains all zero data.

Juniclock: The analog sound for your digital system
We particularly take care with sound rendering. We choose topology and parts with great attention. Crystals are drove in sinewave mode, mechanically coupled to PCB and enclosed in a copper tube. The power supply uses MKP and electrolytic audio grades capacitors. This results in a warm and analog sound rendering.



Gallery
| | |
| --- | --- |
| Sinewave clock signal (24.576MHz) | |
| | | |
| --- | --- | --- |
| Without copper shield | With output connectors | Copper shield details |
Working with clock
The Juniclock Five can be used in synchronous or asynchronous clocking mode. The clock is compatible with various DAC and is an ideal companion for Jundac Three, Jundac Five and Jundac XI.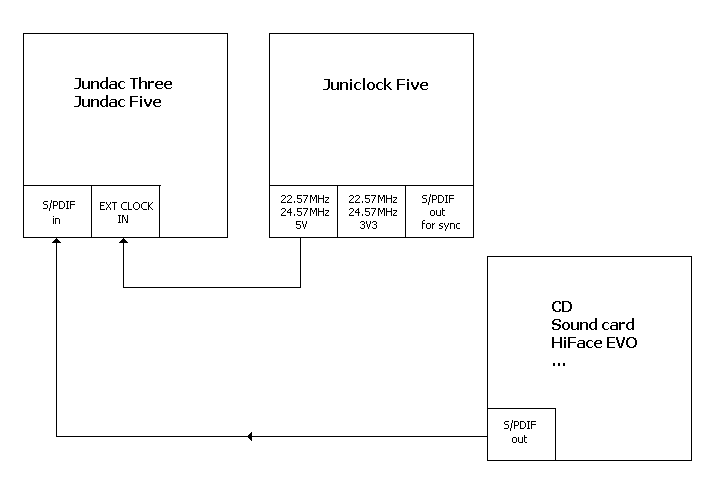 Working in asynchronous mode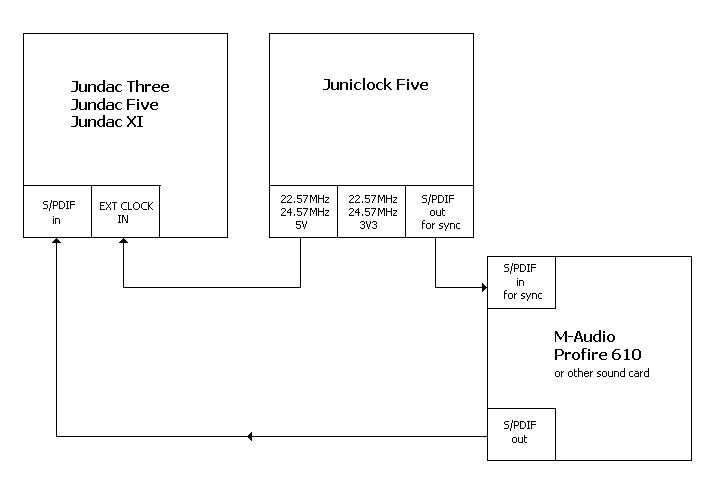 Working in synchronous mode with slaved sound card
A slaved sound card accepts mastering S/PDIF output with incoming data signal.
Many slaved sound card can be used:

M-Audio Profire 610
M-Audio Audiophile 192
...
Contact your local reseller to verify sound card's characteristics. Some products are limited to 96KHz.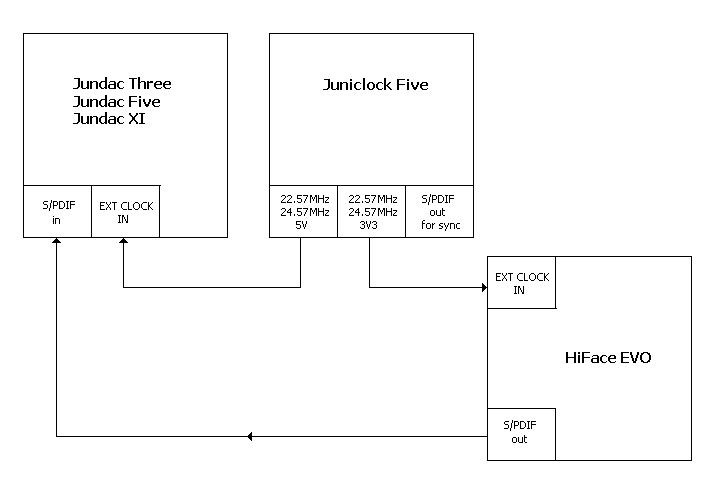 Working in synchronous mode with HiFace EVO

<!- fin Tableau des textes ->