Upsampled Digital Audio Converter
Jundac XI - November 2011

Jundac XI ideal solution for dematerialized music...

The Jundac XI is a 24bit 8x oversampled digital to analog converter with two different digital filters. It integrates one S/PDIF or AES/EBU input, an optional input clock and stereo fixed analog output.

The DAC chip is Ti PCM5102; it can operate from 32kHz to 192kHz sampling frequency. The incoming data is umpsapled to 352.8KHz or 384KHz.

Power supply in a DAC is critical to the overall design. The Jundac XI uses very low noise regulators with polypropylene capacitors, Elna Silmic II and Nichicon KG gold tune electrolytic capacitor.
To achieve the full music sonic attributes, we recommend using 200VA to 300VA power transformer.



Product
Description
Buy
Jundac XI - mounted

- click on the picture to show kit's details
- Assembled and tested
- Sold without transformers



discontinued

Recommended transformer

- 2x12V 200VA

.


Jundac XI + Juniclock Five - mounted

- Jundac XI and its companion clock Juniclock Five

- click on the pictures to show kit's details
- Assembled and tested
- Sold without transformers

- More about Juniclock Five



discontinued

Technical documentation
Short technical description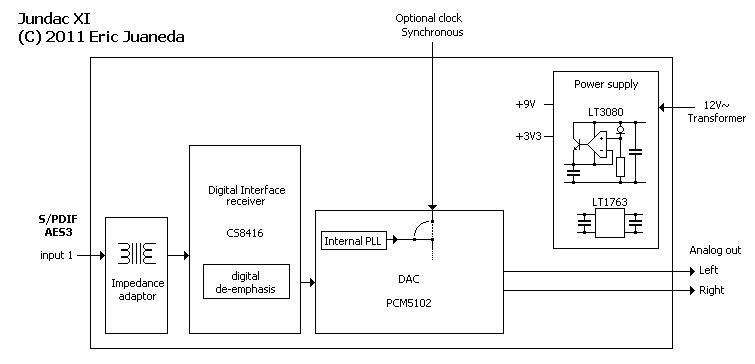 The Jundac XI use Cirrus CS8416, 32K to 192KHz DIR (digital interface receiver) chip. The CS8416 provides digital de-emphasis needed for reading some CD recorded with pre-emphasis.
The PCM5102 integrates an internal PLL to generate master clock necessary to perform upsampling operation and noise shaping. An external low jitter synchronous clock can be used to increase audio rendering.
The PCM5102 allows analog direct DC coupling. The analog output is unfiltered; there is no capacitor or other passive component in the signal path.



Digital filter
The Jundac XI integrates two digital filters. The filter response can be selected by switching FILTER pin to GND.


| | |
| --- | --- |
| Apodising filter | Linear phase filter |
The apodising filter, without pre-ringing, gives more details, more dynamic and natural sound. It reduces the distance between NOS DAC's natural sound and foggy upsampled DAC sound. A simple switch allows comparing digital filter signature.


| | | |
| --- | --- | --- |
| Unfiltered output signal (980Hz) | | Dirac impulse response detail |
Working with clock
The Jundac XI can operate with or without external clock. The Juniclock Five is the ideal companion when working with dematerialized music.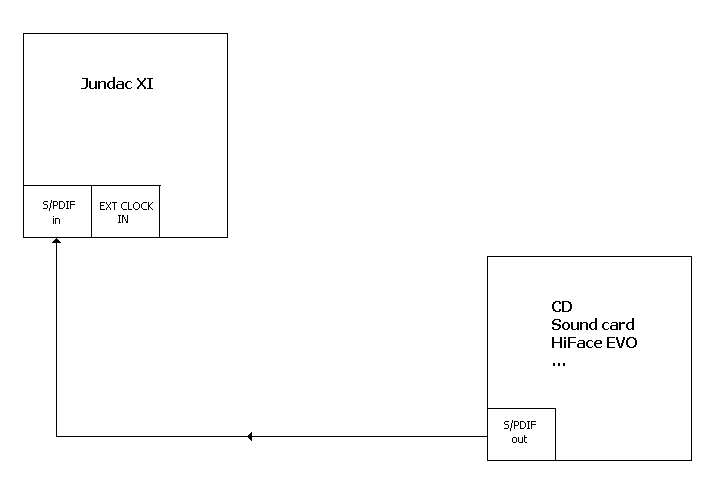 Working without external clock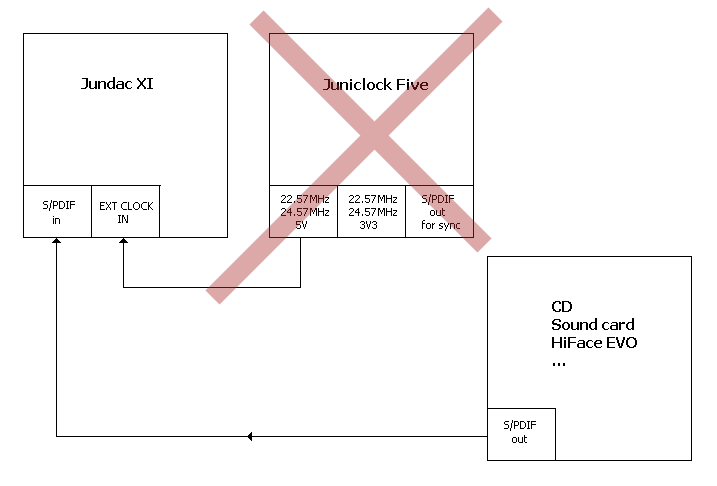 Working with asynchronous clock is NOT possible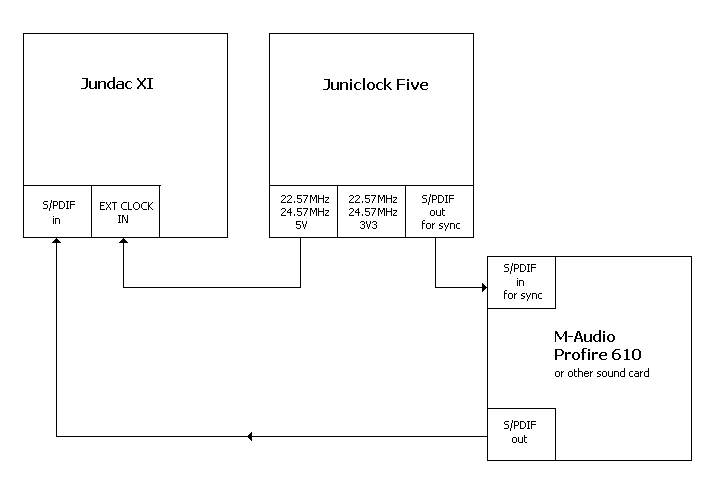 Working with synchronous clock and slaved sound card
A slaved sound card accepts to master S/PDIF output with incoming data signal.
Many slaved sound card can be used:

M-Audio Profire 610
M-Audio Audiophile 192
...
Contact your local reseller to verify sound card's characteristics. Many products are limited to 96KHz.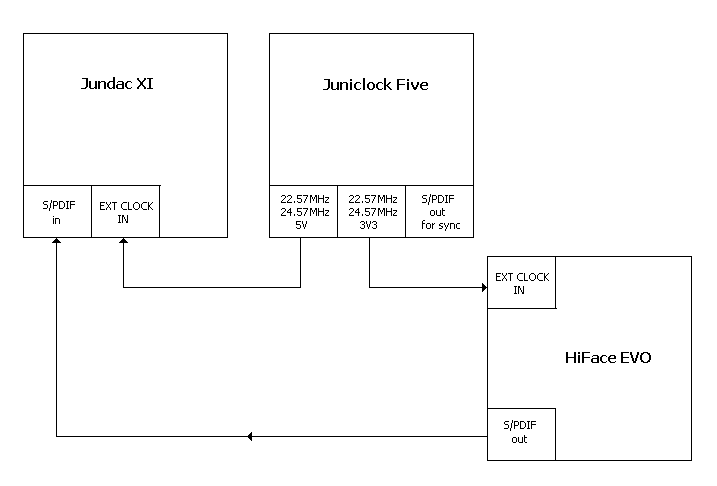 Working with synchronous clock and HiFace EVO