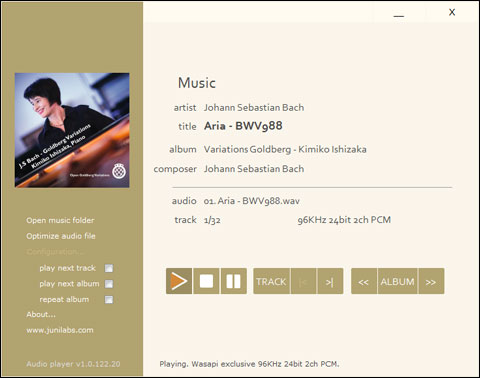 Junilabs audio player is a free audiophile player that runs on Windows. It allows a high quality sound restitution while being simple to use.

Download : Junilabs Player setup x64

The complete development of the player is focused on the precision of the sound rendering. Thus you will find only a few functions that allow a computer to reach a very high level of sound quality.

Combined with good audio equipment (amp, speakers, DAC) and excellent implementation (vibration management, power supply, acoustics...), Junilabs Audio player is the source that will sing your setup.


Optimization
After installing the Junilabs Audio player, it is recommended to run an initial optimization. This operation optimizes the player and some of its components.

Product ergonomics
The Junilabs Audio Player is ergonomically designed for real-world use. It is free from many technical considerations. Don't try to reproduce the automatisms you have acquired with other softwares, the Junilabs Audio player works differently.