Juniclock : The analog sound for your digital system
The jitter is not the only point to reach perfect sound. In fact it is only one point among many other ones; the quality of the power supply, passives parts, actives parts, managing vibration… has more important impact on sound reproduction. We though Juniclock for analog and human rendering with body, realism end life…

We integrates top end parts and solutions like polypropylene capacitors, low noise regulators assembled in semi-parallel configuration, active shield toward positive ionic and quantum stabilizer.
The high quality 12V power supply output allows to power external sound card or interface

12V power supply for HiFace EVO or Profire 610
The juniclock One integrates 12V power supply output to power firewire M-Audio Profire 610© sound card or M2Tech HiFace EVO© interface. This well designed power supply allows reaching the best from this equipment. Added to a good management of the vibration, this solution is nice place to work with high definition audio files (24 bit, 96/192Khz).

The following pictures describe allowable configuration.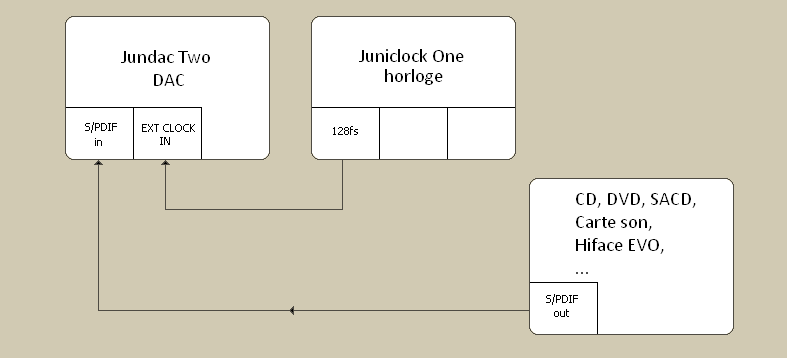 Connect a peripheral without synchronization.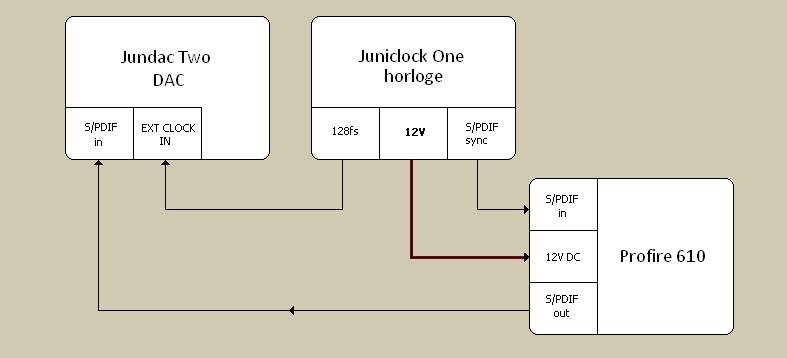 Connect an M-Audio Profire 610© with clock sync. In this configuration, the internal clock stage of the Profire 610 is not used..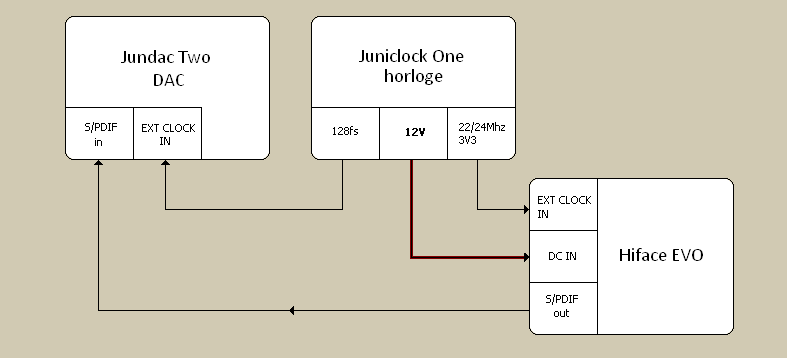 Connect an M2Tech HiFace EVO© with clock sync. In this configuration, the internal clock stage of the EVO is not used.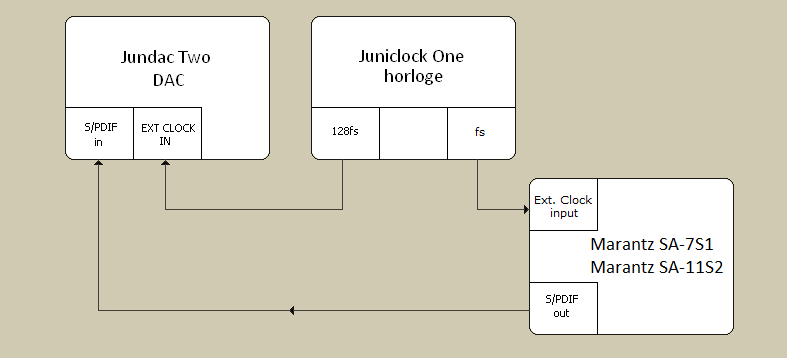 Connect a CD-SACD player Marantz© SA7-S1 or SA11-S2 with clock sync. In this configuration, the internal clock stage of the CD player is not used.





The clock is very important equipment in digital sound reproduction. During design, it was necessary to take care to prevent high frequency emission. For this reason, we close the quartz in a copper tube. The front panel switches allows to activate only used outputs to minimize HF emissions. Chassis is an aluminum box linked to the Earth and integrating a Green Earth output to prevent any disturbing.

The Juniclock is not only music reproduction equipment, it sings the music…


Our philosophy
Junilabs designs material for the ages: listening quality, reliability are our design directions. Circuits are made to work more than twenty years, thus equipments have 5 years warranty.
Our direct dealing method: manufacturer to end user allows selling Juniclock One at very attractive price.

We hope that you find a fully satisfaction on using our electronics and share with us the same passion.





Documentation

User manual [PDF 10 pages, 724Ko]


Technical characteristics

Working frequencies: 44.1KHz, 48KHz, 88.2KHz, 96KHz, 176.4KHz, 192KHz
6 outputs : S/PDIF, AES, Word clock, 128xFs, 22/24MHz 5V, 22/24MHz 3V3
+12V output power supply to power external sound card

Switch On/Off in rear panel
In front panel, working frequency selector, individual output switch

Size : 45cm x 5cm x 30cm
Weight : 8kg

Price : Discontinued product

Don't hesitate to contact us.